ESG Portfolio Management and ESG Model Portfolios
The Luna ESG MPS ensures the incorporation and integration of environmental, social and corporate governance (ESG) factors in our investment selection.
This service is only available to Financial Advisers and is a model portfolio based approach on external third-party platforms.
Luna conducts due diligence on the individual funds to create five risk-rated portfolios which we believe are invested in products with ESG at the centre of what they do.
Available on the following platforms – Advance by Embark, Aviva, Novia, Standard Life and Transact.
Actively managed – both at an asset allocation and security perspective.
Combining Luna's knowledge with experts dedicated to this type of investing.
The portfolios are rebalanced quarterly.
We have five risk-rated portfolios – from a traditional more cautious portfolio up to an equity only portfolio.
These portfolios are invested solely in collectives funds or ETFs and combine both active (picking fund managers who we believe can deliver outperformance relative to their benchmark) and passive funds (that replicate a benchmark).
Competitive fees.
The chart below details the different types of investment product that exist in the market place. Luna has decided to combine a number of these different styles because we believe it builds a well-diversified portfolio.
For example, we have funds that have exclusions, appointed active fund managers who conduct ESG company analysis and have extensive experience in this.
We have selected funds where they go a step further and are seeking to have a positive impact on how they invest and finally we have selected funds that are dedicated to 'green investing' by selecting products dedicated to both clean energy investing and green bonds.
For more information on the Model Portfolio – please find attached the factsheets and cost and charges document for this service.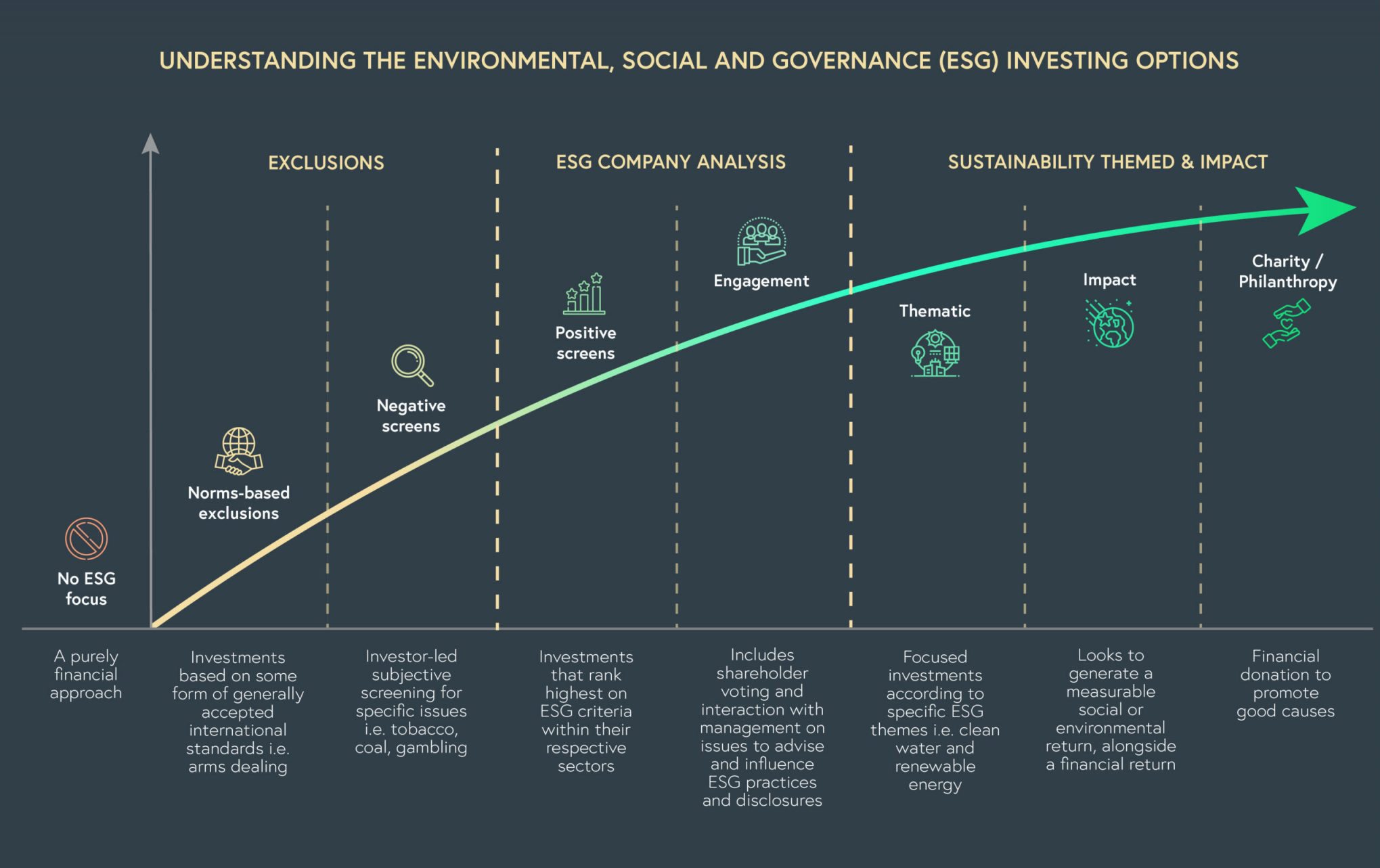 Contact us to find out more information about how Luna can help with your investment management needs.
Luna Investment Management Limited is an appointed representative of Thornbridge Investment Management LLP "Thornbridge", which is authorised and regulated by the Financial Conduct Authority. All investment management decisions are undertaken by its investment committee. Luna staff sit as members of that committee. Further details, including all relevant regulatory disclosures can be found at www.thornbridge.com.
Level 7, Tower 12
The Avenue North
18-22 Bridge Street
Spinningfields
M3 3BZ
The value of your investments may go down as well as up, and you could get back less than you invested.
The Defaqto 5 Star Rating applies to both the Luna Model and Bespoke Portfolio Services only.
Luna Investment Management Limited (FRN: 923454) is an appointed representative of Thornbridge Investment Management LLP (FRN: 713859) which is authorised and regulated by the Financial Conduct Authority. Luna Investment Management is registered in England. No 12280396